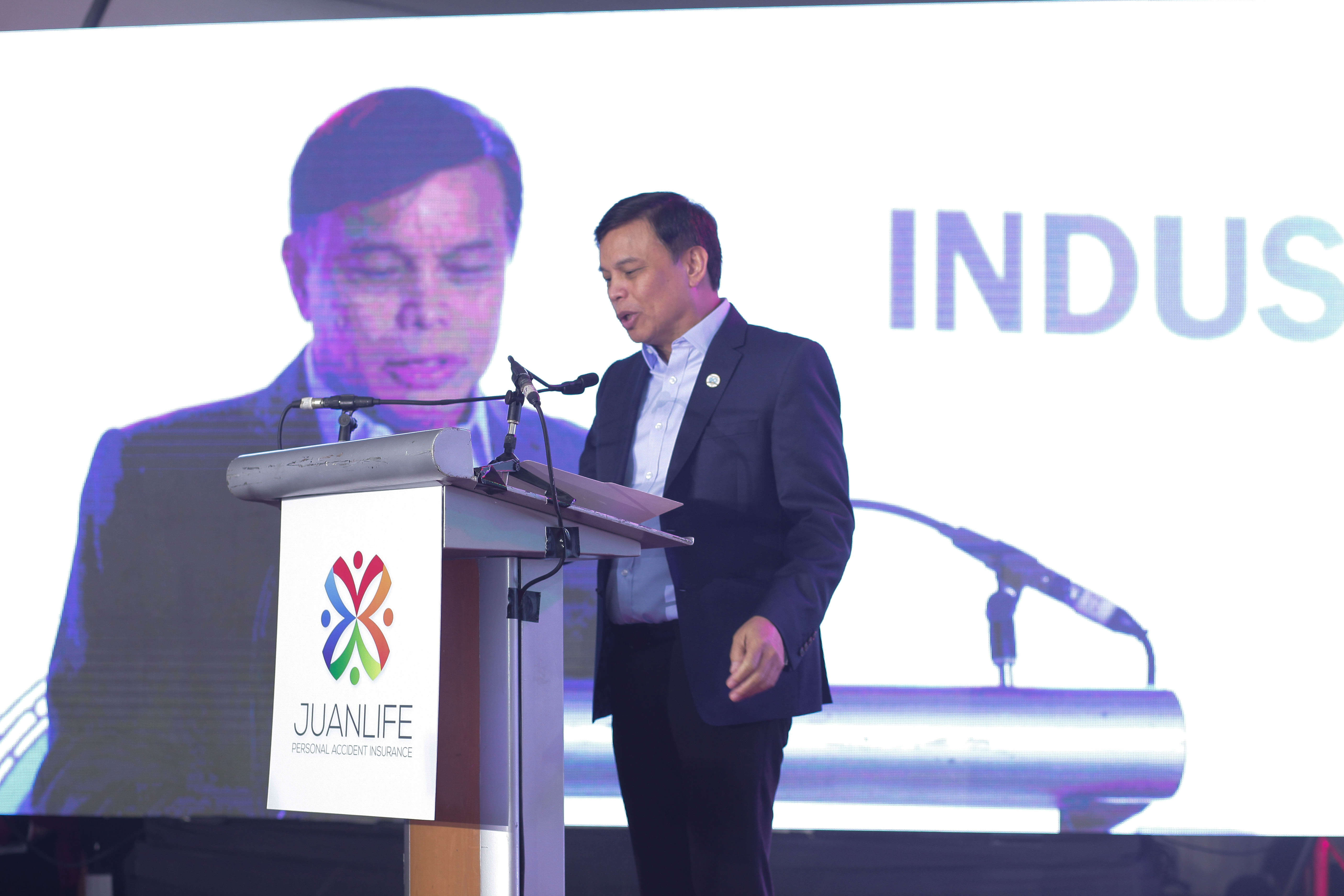 ROMULO DELOS REYES, JR
President, Stronghold Insurance Company, Inc.
Speech
Engr. Jason Ampoloquio, the Information Systems Division Manager from Insurance Commission, to the entire team of the Agile Insurance Agency and Business Technologies, my colleagues from Stronghold and the representatives of Milestone, Sterling and Bethel insurance companies, our top performing agents, to the members of the press, good morning.
Today is a historic day, not just for Agile but for our company, Stronghold, because it also represents Stronghold's venture into e-commerce.  Agile is the very first insurtech company that Stronghold is partnering with through JuanLife Personal Accident insurance.
Being in this business for 60 years, the disruption brought about by technology is a far complex field for Stronghold, and I must say for the entire insurance industry.  The technological innovations come so fast that it presents wonderful opportunities to us.  But because it is new knowledge, it also comes with a lot of challenges and fears and demands of us the political will to open ourselves to this new way of doing insurance business.
While we must protect our core, which we have done so well in the last six decades, we must also learn to open ourselves to new opportunities, because it is the demand of the times. Technology is not something that we can resist or challenge. The decision therefore is whether to ride the wave or find ourselves sinking in the next years.
There are three learnings that I want to share in partnering with Agile.
First is COLLABORATION. 
Technology is not our core competency as insurers. It is therefore strategic to partner with an insurtech company, whose core competency is technology and marketing so that we can add value to our current business as we learn to transition to the digital space.
The challenge, now as we see it, is not insurtech versus traditional insurer. Rather, how to collaborate or work together to leverage both on our expertise—our traditional strengths as an established insurer and the new set of skills brought about by Agile, so that we can create a tangible value and deliver an improved experience to our customers.
The second value of this partnership that I want to share is FASTTRACKING INNOVATIONS.
 Clearly, the use of technology compels us to challenge our mindset as traditional insurers. Our structure, our processes, our systems need to be reviewed and changed to adopt to the fast-growing digital industry. But while we are preparing ourselves for a massive organizational change at the background, we also need to start innovating at the frontline. How do we then strike a balance?
Agile serves as our external innovations arm, providing services such product development, marketing and distribution.  They also provide claims facilitation and administrative support.  All of these services free Stronghold from operational tasks, and provide us more valuable time to work on our core business while addressing organizational transformation.
The third value is EXTENDING DISTRIBUTION REACH AND CREATE MARKET SEGMENTATION
 The partnership with Agile has opened to us an access to a new distribution channel.  It drives us direct to customers where we have not been able to penetrate before. It provides us access to an emerging market segment.  It also provides us the platform to understand this new market more systematically by using technology.
That's the most exciting in this partnership with Agile.  It provides us the opportunity to communicate efficiently with our customers, gather their insights and sentiments, and use these customer feedback to improve and develop more customer-focused products and services. 
With technology, the future of insurance will be more customized, more customer-driven products. And our partnership with Agile, starting with the launch of JuanLife personal accident insurance, is our first step towards that future.
Thank you.