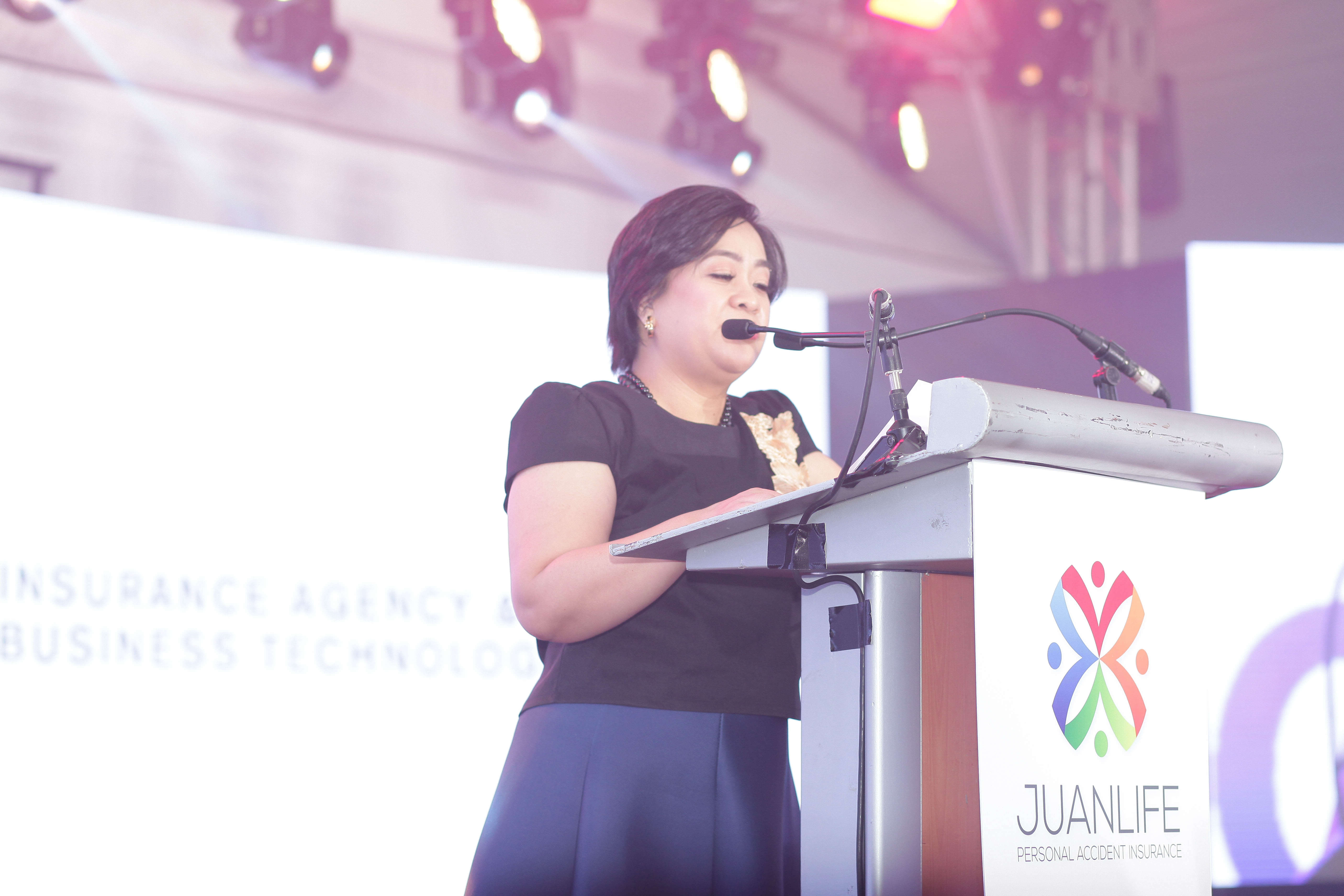 Ms. Roselle Masirag
General Manager
Agile Insurance Agency and Business Technologies, Inc.
Speech
Engr. Jason Ampoloquio, from Insurance Commission, Mr. Romulo Reyes from Stronghold, the executives of Milestone, Sterling and Bethel insurance companies, and their general agents, to the members of the press, special guests, good morning.
It is my privilege and pleasure on behalf of Agile Insurance Agency and Business Technologies to welcome you here today.
We are delighted to have you with us, to participate and grace our Trade Launch of JuanLife. Thank you for coming. That many of you have traveled long distances to be here serves as a reminder to us all just how important our work is.
Let me talk briefly about our company, Agile Insurance Agency and Business Technologies, Incorporated. 
Agile is an insurtech company.  We are a technology and marketing company that specializes in providing technology solutions for the insurance industry. We partner with insurance companies to create new products or innovate existing products and market them through e-commerce and community-based distribution.
We work with non-traditional distribution channels, which provides a new platform for insurance companies, making them cast a wider distribution reach.
We also aim to partner with other companies, whose products and services align with our customer needs.
Through these partnerships with insurance companies, industry partners and distribution partners, our purpose is to build a new insurance ecosystem where all stakeholders strategically serve our customers' needs, and by doing that, we create loyalty from our customers and bring value to all stakeholders.
Agile's first initiative is JuanLife Personal Accident Insurance, which we are launching today.
JuanLife is a play on "Juan", the symbol for every Filipino, and the number "one". It means to evoke that Juan only has "one life" to live, therefore the need to secure it.  Our tagline, "JuanLife Mo, Ingatan Mo" says it all.
JuanLife is an affordable insurance that aims to serve every Filipino.  We want to break the misconception that insurance is expensive or that insurance is only for the rich. We designed JuanLife thoughtfully to include other segments that the industry usually avoid, the high-risk segments like children below 18 year of age or those with hazardous jobs.  Even accidents on board a motorcycle is covered.  We crafted JuanLife in consideration of these unserved or underserved segments, to make JuanLife more inclusive.
JuanLife of course cannot happen without our partnership with Stronghold Insurance Company.  We are very fortunate to partner with Stronghold and to have been accorded the trust to develop this product and be allowed to exclusively distribute it.
It is a delight to work with Stronghold because we are aligned in our purpose to set new boundaries for the insurance industry. Through its progressive leadership, we feel that JuanLife is just a start of a strong partnership.  We look forward to working with them, learning from them and growing with them.
There is nothing more appropriate to end my talk than to introduce you to Mr. Romulo Delos Reyes, Jr., the visionary behind Stronghold.