JuanLife Insurance x Bell Helmets
Discount Program
Validity Period: February 20, 2023 – February 19, 2024
Coverage: Two (2) participating Dan's Bike Shop branches
Dan's SM Megamall – 2nd Level, Mega Atrium, SM Megamall

Dan's Bacolod – Unit 3 EAC Building, Mandalagan, Bacolod City, Philippines 6100
OFFER: Discounts on Bell Helmets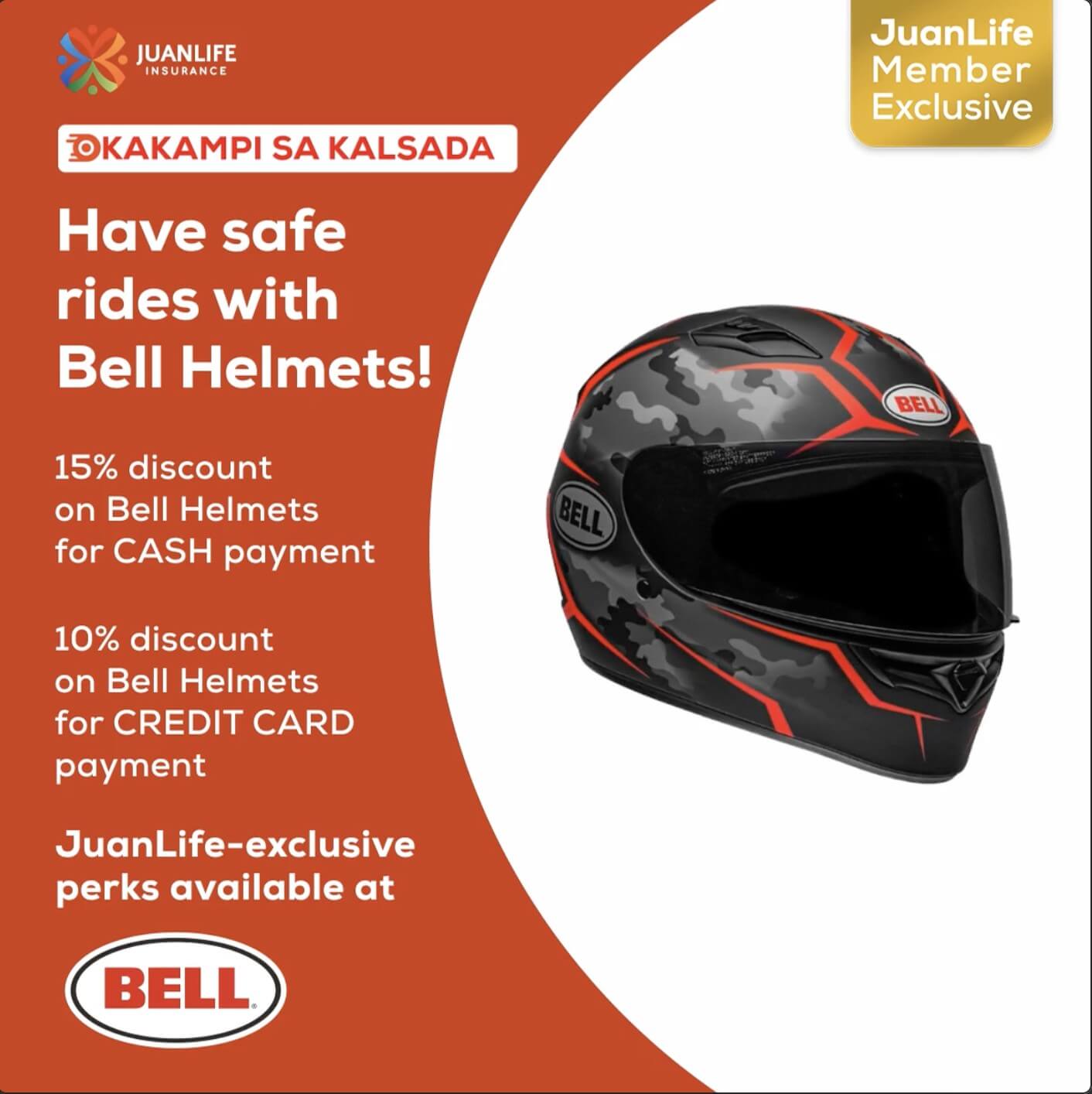 15% Discount on Bell Helmets products for CASH payment
10% Discount on Bell Helmets products for CREDIT CARD payment
Terms and Conditions:
No minimum spend required.
The discounts are applicable to Bell Helmets products only.
Members can only avail of the discount 5 times on all 3 brands under Dan's Bike Shop partnered with JuanLife Philippines (Bell Helmets, Gaerne & POD Active) combined during the validity period.
Mechanics:
From February 20, 2023 to February 19, 2024, all active JuanLife members are entitled to avail of the discounts in any participating Dan's Bike Shops branches.
JuanLife members must present a valid ID and the valid Confirmation of Insurance to the staff on duty as proof of eligibility. Expired COIs will not be honored.
JuanLife members must pay for the services with the discounted amount extended by Bell Helmets upon completion of the service.
JuanLife members can only avail of the discounts 5 times combined regardless of the brand during the contract period.
Contact Details:
Address: 2nd Level, Mega Atrium, SM Megamall
Contact Number: 0970-311-9406 / 09171502378
Address: Unit 3 EAC Building, Mandalagan, Bacolod City, Philippines 6100
Contact Number: 0920 914 4565
FAQs:
1) What are the products offered by Bell Helmets?
Motorcycle helmets.
2) What is the price range of helmets from Bell Helmets?
The price ranges from P6,000-P25,000.
3) What are the modes of payment?
Cash and credit card.
4) Will the Dan's Bike Shop branches keep a record of how many times I have availed of the benefits?
Yes, they will record on their end to ensure that JuanLife members will only avail of the discounts five (5) times.
5) If the JuanLife member's policy is about to expire, can they still avail of the discount?
They can avail of the discount until the end date of their policy.
6) If the JuanLife member's account has already expired and they purchase a new policy, can they avail of the discount?
Yes, they can avail of the discount under the new policy as long as it's activated within the discount validity period. They can present their new COI to the Dan's Bike Shop staff.
7) Can the discount be transferred to family members and friends?
No. Only the JuanLife member with the COI and/or the SMS blast can avail of the discount.