JuanLife Insurance x Motivo Benefits Program
Validity Period:  August 29, 2022 – August 28, 2023
Coverage:  Available nationwide via Motivo's Shopee Store
OFFER #1: 30% DISCOUNT on all Motivo products (P500 min. spend)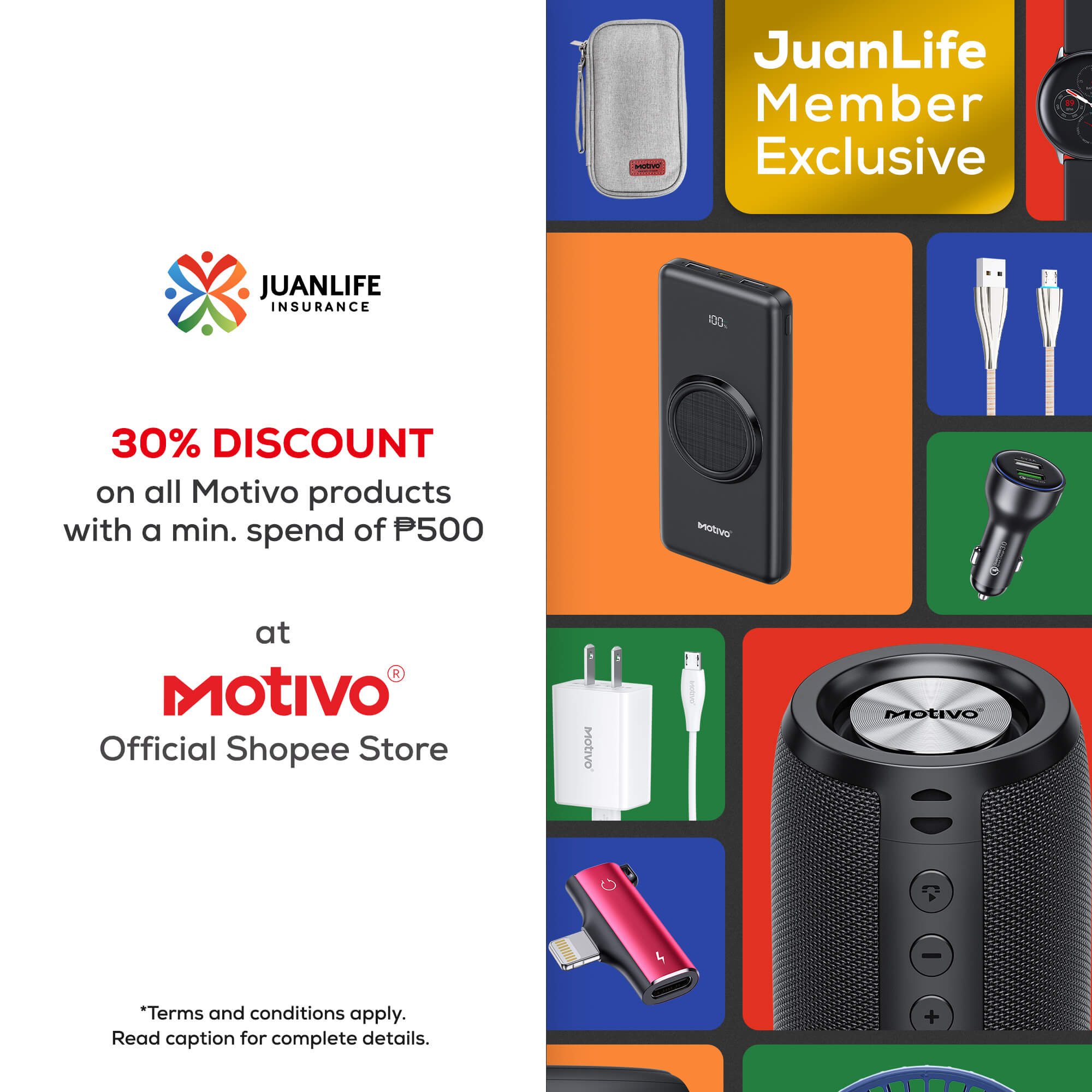 OFFER #2: FREE SHIPPING nationwide (P1,000 min. spend)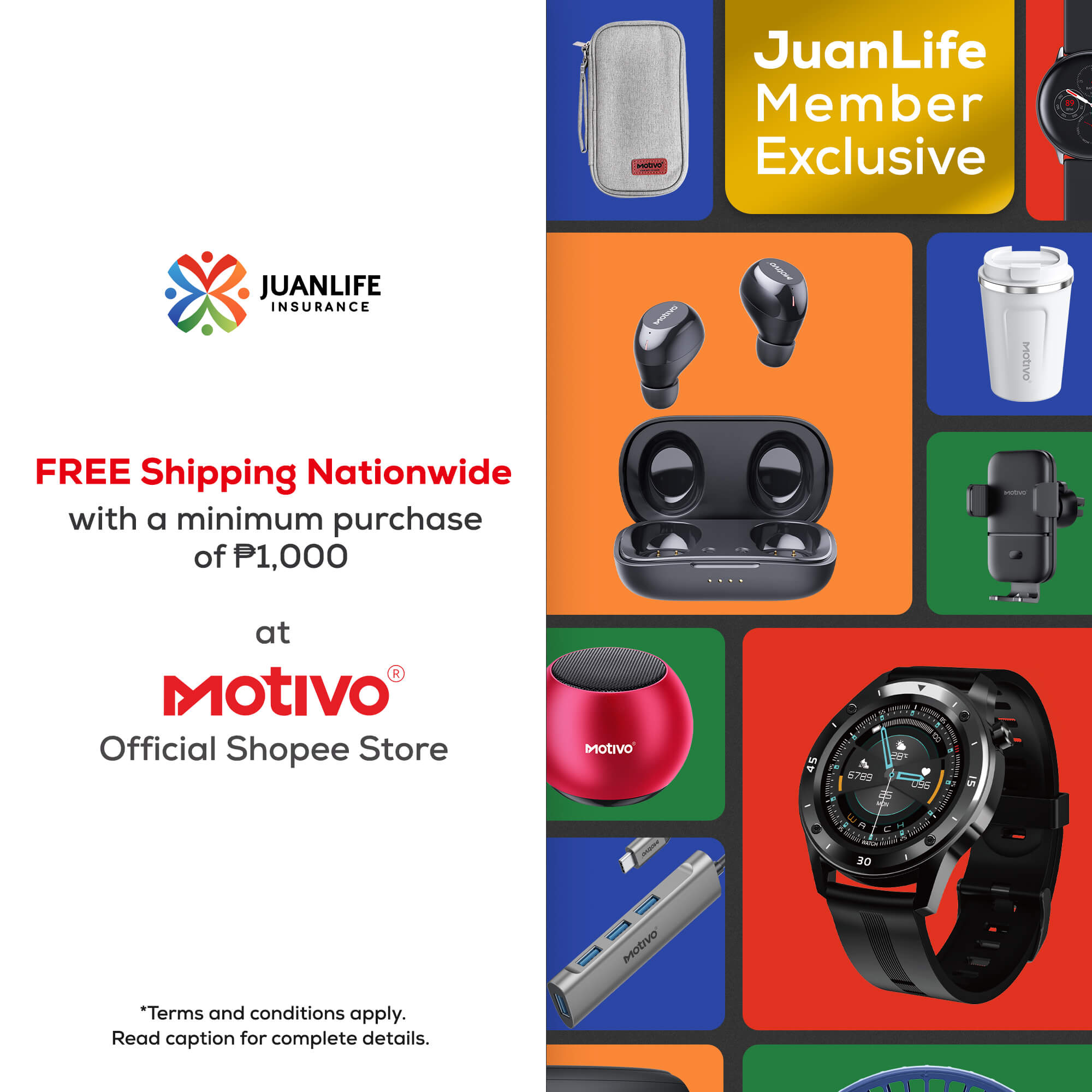 OFFER #3: Exclusive First Dibs on Item Discount/Clearance and Special Sale on Motivo's Shopee Store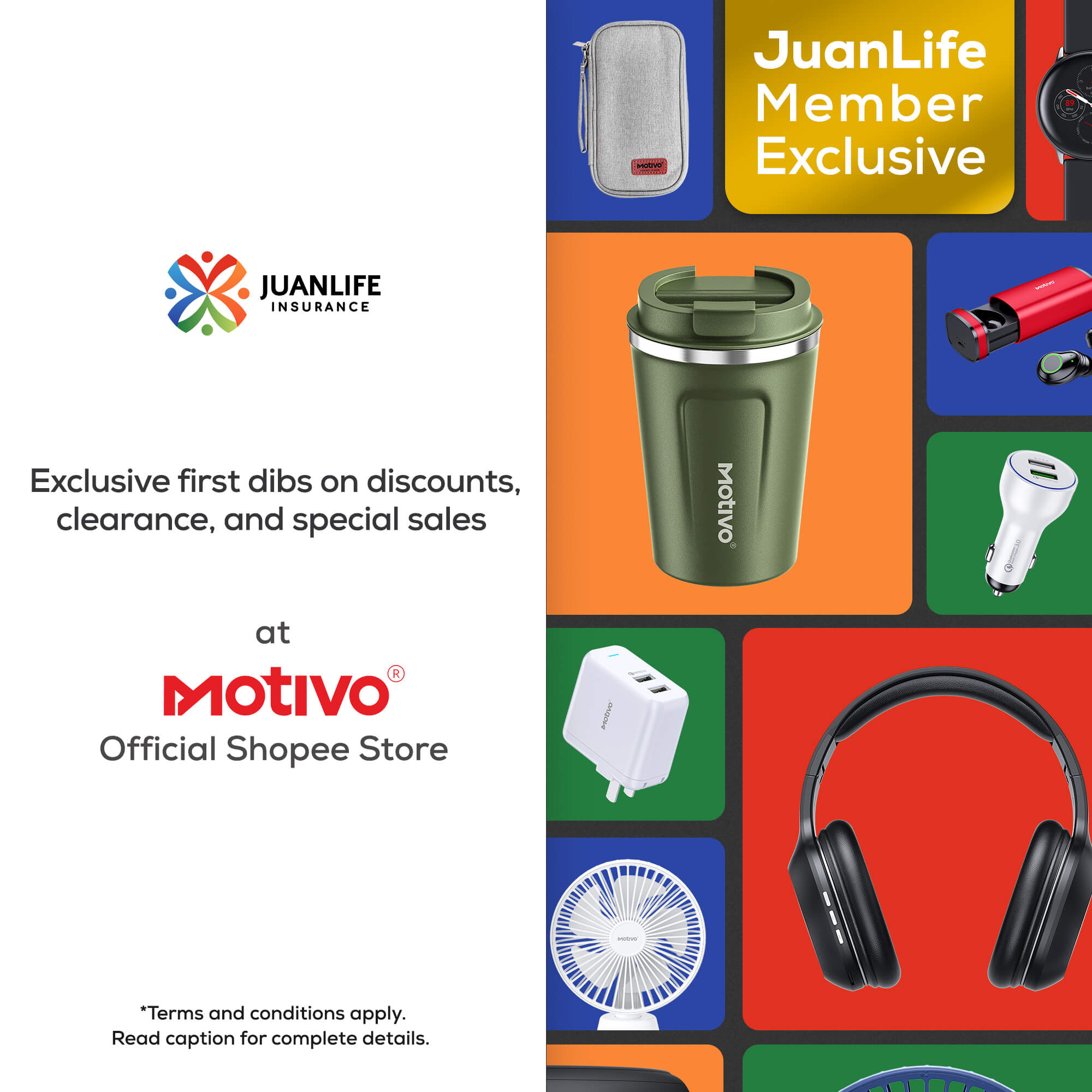 Mechanics:
1. From August 29, 2022 to August 28, 2023, all active JuanLife members are entitled to avail of the discount on Motivo's Shopee account using the voucher code sent via SMS & e-mail. If you're an active JuanLife member and you didn't receive a code, send a message to JuanLife Philippines on Facebook or email us at wecare@juanlife.com.ph.
2. To claim the discount, go to your Shopee profile, click on "My Vouchers", input the voucher code, and click "Apply".
3. JuanLife members must pay for the services with the discounted amount extended by Motivo upon checkout.
FAQs:
1) What is Motivo?
Operating in the Philippines since 2018, Motivo is the pioneer brand of REXTRON International Corporation–an electronics company with more than two decades of expertise in manufacturing innovative technology products and solutions worldwide. Some of the electronic consumer products REXTRON International cater to are Huawei, Xiaomi, Motoral, Meizu, Asus and more.
2) What are Motivo's products?
Motivo offers powerbanks, data cables, headphones, chargers, speakers, watches and more!
4) What is Motivo's official store on Shopee?
You may visit Motivo's official Shopee account at https://shp.ee/7zytzzj
5) What are the modes of payment on Shopee?
You may pay via Cash on Delivery (COD), Payment Center, e-Wallet, Bank Transfer, Credit/Debit Card, and Online Banking.
6) How many times can I use the voucher code?
You may use the promo code once per transaction.
7) Is the voucher code for one-time use only?
Yes, the voucher code can only be used once per Shopee account.
8) Can Motivo deliver nationwide?
Yes, they can deliver nationwide via Shopee.
9) How long is the delivery period?
Metro Manila: 2-3 days
Luzon: 3-5 days
Visayas and Mindanao: At least 1 week
10) Which courier service does Motivo use?
The courier depends on what Shopee is in partnership with.
11) Do I have to upload a valid ID and digital Confirmation of Insurance to use the voucher code?
No, simply input the voucher code and you can avail the discount.
12) Is there a warranty on Motivo products?
Returns
If you are within 7 days of purchase, you can return your MOTIVO items should it be faulty. Motivo guarantees that your product will be free of issues when it is sent to your door, so if anything comes up, they can extend a return or replacement. Contact Motivo via the Shopee chat box with your order number as proof of purchase. You may also send a photo/video for additional proof.

Replacements
All items are covered for 30 days limited warranty for battery operated items such as powerbanks, bluetooth speakers and headsets. If there is a quality issue with your device, you are eligible for a replacement, sent to your house. Contact the Motivo support staff with your order number as proof of purchase. This 30-day warranty is valid only for products purchased directly from the Motivo Official Shopee Store. If you purchased your product from another seller, please contact them directly for service and warranty terms.
13) Are there exclusions on the warranty?
30 Days Product Warranty
To claim this warranty, the customer must provide proof of purchase. Exclusions not covered by this warranty include:
     1. Any defect, malfunction, or failure as a result of misuse, abuse, improper installation, or use with faulty or improper equipment.
A. Corresponding Shopee order number:
B. No physical damage to the subject item;
C. The item is returned within the warranty period and with complete accessories and packaging
14) How can I avail the free shipping?
Free shipping will automatically be applied once you reach the minimum purchase requirement of P1,000.
15) If the JuanLife member's policy is about to expire, can they still avail of the discount?
They can avail the discount and free shipping as long as it is within the availment period.
16) If the JuanLife member's account has already expired and they purchase a new policy, can they avail the discount?
Yes, they can avail the discount and free shipping under the new policy as long as it's activated within the availment period.
17) Can the benefits be transferred to family members and friends?
No. Only the JuanLife member with the COI can avail the discount and free shipping.
18) How will I be notified of the first dibs for Motivo Shopee campaigns?
We will announce the campaign via SMS and email blasts. The promo code will also be included.