JuanLife Insurance x Road Eye Towing Services
Discount Program
Validity Period: April 18, 2022 – April 17, 2023
Coverage: Davao, General Santos, and Cagayan De Oro
                   Branch Address: Block 6 Lot 27, Purok 3 Sapphire Street, Dona Salud Subdivision,
                   Barangay Sasa, 8000 Davao City Davao Del Sur
Exclusions: Expressways and Major Highways with the jurisdiction of other providers (i.e. C5 & EDSA)
OFFER: 10% Discount on all Roadside Services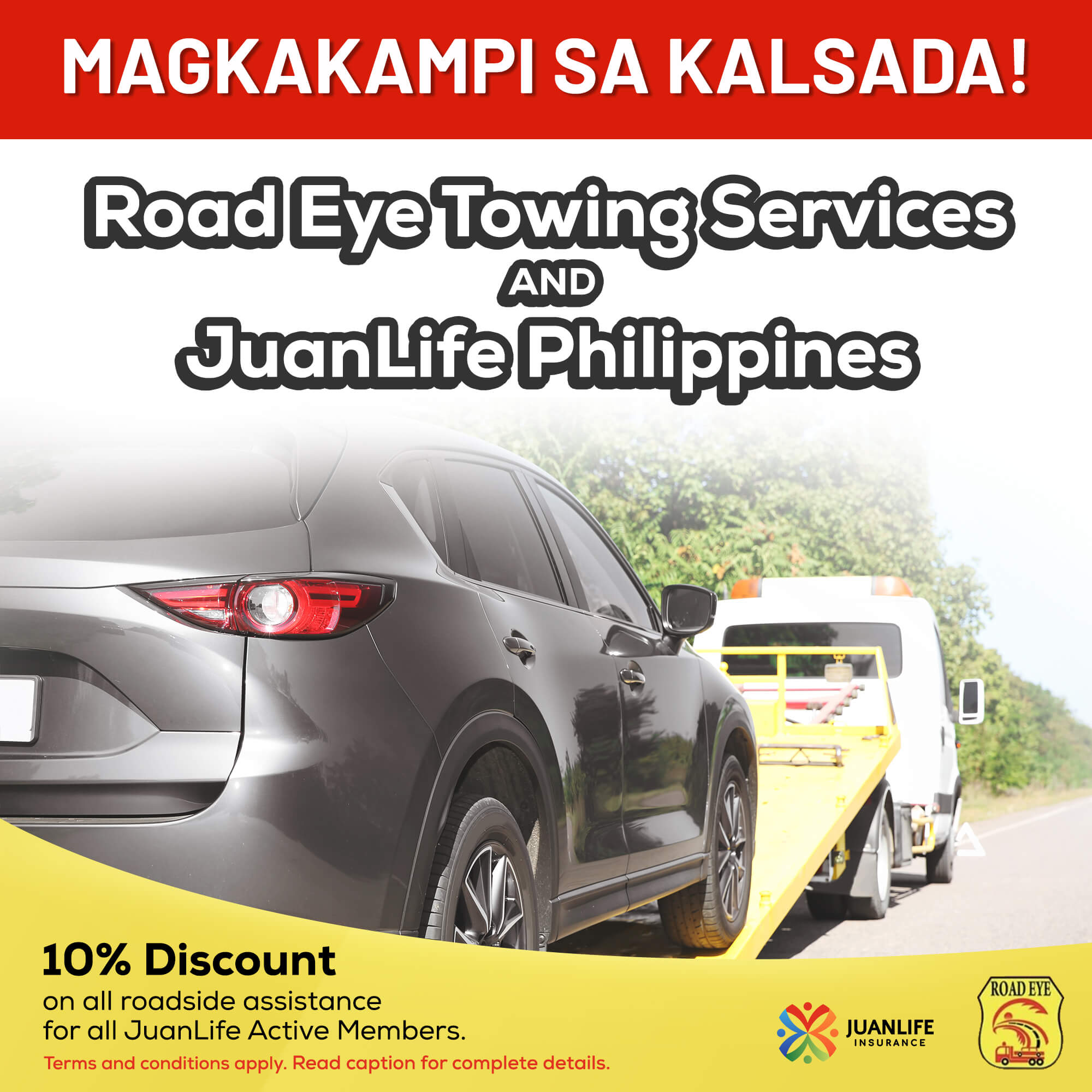 Services Included:
Towing Service

Vehicle Retrieval

Battery Boosting

Tyre Change
Mechanics:
From April 18, 2022 to April 17, 2023, all active JuanLife members are entitled to avail of a 10% discount on

Road Eye

Towing Services' roadside assistance services.

JuanLife members must call

Road Eye

's 24/7 hotline below to avail of the service. On the initial call, the member must provide all necessary details required by

Road Eye

(Name, Contact Number, Pick-up, Drop-off, Vehicle Make, Plate Number, etc.).
Mobile number: 0905 383 2069
Upon arrival of

Road Eye

staff at the pick-up site, the JuanLife member must present the SMS blast and/or the Confirmation of Insurance (physical/digital) to the staff as proof of eligibility.

The JuanLife member must pay for the services with the discounted amount extended by

Road Eye

upon completion of the service.
Contact Details:
Nori Grace Villoria
roadeyetowingservices@yahoo.com.ph
0905 383 2069
FAQs:
1) Is the emergency hotline available 24/7?
      Yes.
2) What is the usual ETA on site?
      The ETA depends on the pick-up site.


3) What type of trucks is the provider using for towing? How about for minor onsite repairs?
     For towing, they use flatbed trucks. For minor onsite repairs, they use motorcycles.
4) How many passengers can the provider accommodate in the truck for towing services?
     They can only accommodate 1 passenger.
5) How many people will assist on-site?
     They send 2 staff for all services.
6) What are the modes of payment?
     They accept cash.
7) For towing services, should the casa/warehouse where the vehicle will be delivered to aware of the service?
     Yes, the casa/warehouse should be informed prior to dispatch of tow truck to ensure that the vehicle will be accepted.
8) If the JuanLife member's policy is about to expire, can they still avail of the discount?
     They can avail of the discount until the end date of their policy.
9) If the JuanLife member's account has already expired and they purchase a new policy, can they avail the discount?
     Yes, they can avail the discount under the new policy as long as it's activated within the availment period. They can present the new SMS blast and their new COI to the Road Eye staff.
10) Can the discount be transferred to family members and friends?
     No. Only the JuanLife member with the COI and/or the SMS blast can avail of the discount.
11) Can the JuanLife member avail of the discount if they fail to present a copy of the SMS message?
     If they don't have a copy of the SMS message, they can show a copy of their COI to the Road Eye staff as soon as they arrive at the site.